TEN YEARS IN PAYATAS!

July 2006 – July 2016

It sometimes has been a rocky trip.
I lost my mom whle preparing to come here, then my sister, then my father and just last week I lost my brother. I am reminded that we are all dust and the battle is to deliver the good news to as many as possible before their time to go arrives.

As we lose, we gain and the Church Grows!

As you can see, we need more room. Please pray so that God will give us the compound. We dream big because we have a big , generous God.

Blessings Abound!
We teach that as we obey God in all that He says, God will increase us. Our support, our education, our mental, spiritual and marital health. In other words, in everything.
Some of our ladies started their own group to make uniforms for the schools. They have also taken on purchasing the tanks of gas we need for the feeding program.
Our youth has taken on the cost of a bag of rice every month. That leaves P4000 each month for the food. We already have one donor who pays for one of those weeks. Only three to go.
A couple of the men are making floor mats. One of them is Lito, the grandfather of Vanessa and Marianne. If you recall, he takes care of his two grand children. He is in a wheel chair and is expecting to get an operation on his legs. He is such an encouragement to show everyone can do something.
COLLEGE REGISTRATION

Our first two graduates of Bible College have registered this week for their final stage of learning. One will go on to be an English teacher to foreign students and the other will be a C.P.A. both will continue with the Church and continue to be a blessing.
It will cost $2000 per year for both of them. Please pray for the finances.
They are the first of our 20 year program to raise and educate the Payatas kids giving them every opportunity to succeed.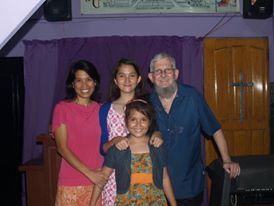 Thanks and God bless from all of us to all of you!