New Year, New Things
Feed the poor
I have heard people who claim to be Christians say we should
not feed anyone. They think it's a Socialist program and we become a
Socialist Church.
Rather than answer them, I ignore them. There is no sense having a battle of wits when the other guy has none.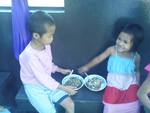 Anyway, it was brought to my attention that one of our kids
were not eating on a regular basis. Our kids are so joyful and they
don't complain and I wanted to flip out because I was not aware of this.
And then God said…"Start a feeding program for the school kids."
Do you know what I love about God? Everything, of course. I
particularly like it when He gives me instructions. All I have to do is
follow them.
So we asked for volunteers and immediately my generous Church Brothers and Sisters agreed.
Someone sent us $20 toward the first weeks feeding and we
announced to the kids that our new program will be from 11:30 – 12:30.
The early school program gets out at twelve and the late program goes in
at twelve. So we can cater to both groups.
We have the largest Church in the smallest Building around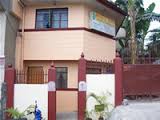 We have had a dream about building a compound for eight years
now. So far, that vision has not materialized. I have been told to
return home to beg for more donations but remembering that God has
supplied every need we ever had, then I would have to ask, wouldn't I be
2nd guessing God if I did that. I mean if someone sent the tickets and
funds I might be tempted to believe that was God's will but I don't
think so.
As I look around I don't see anyone doing what God has done
here. I see Pastors struggling to build empires but so many times the
love is lost as well as the direction. We have the happiest, most
dedicated Church I have ever seen and I believe it is because we
realized that we are in God's hands and He's got this.
Would we like a compound or a lot of other things? Of course
but if it doesn't come from the hand of God how good will it be?
Blessings!
Recently we received a 40″ Samsung television set from a dear
friend. Additionally, We received a 4 Burner commercial Char broil
barbecue.
Now I guess that's not a big deal where you are but here it's a
13″ tv and a small round bbcue that uses the dreaded uling.

Both are huge. Both I never dreamed I would ever own and both
was a gift from a friends hand. God, sees that we are blessed.
This is another reason for me not begging for money. God likes to show how He can convince others to give.

NEEDS
We have a dear friend of this Ministry who has breast cancer
and could use you prayers for God's wii and her and her families peace.
We have another couple of violins coming from America by a faithful supporter.
Please keep this in mind. If you or if you know anyone
returning to or visiting the Philippines from America and would be able
to take our violins with them, it would be so appreciated.
We also need to send for Laura and Linda's books which is in the $750 price range. Please pray for that.
And they added to the Church
It's getting tighter and tighter and God keeps adding to the
Church. All I can say is, cool! I am so glad people want to cram in our
little Church than to visit a luxurious Pagan Church! Praise God.
God bless all of you who have faithfully supported this mission with your prayers and financial support.
Pastor Jack, Malou, Laura & Linda
P.S. Please keep me in your prayers. I have been sick for about 8 days now.
---
---