| | |
| --- | --- |
| 1Jn_2:22  Who is a liar but he that denieth that Jesus is the Christ? He is antichrist, that denieth the Father and the Son. |        |
How many times do you hear people say, the End is near or this is the antiChrist.
1Jn_2:18  Little children, it is the last time: and as ye have heard that antichrist shall come, even now are there many antichrists; whereby we know that it is the last time.
As many times as you have heard it, it WILL come and MAYBE before you read this. In any event we should be prepared. If not saved, you need to repent and if saved , you need to recognize all the anti Christs and they are those who will try to lead you away from Christ.
1Jn_2:22  Who is a liar but he that denieth that Jesus is the Christ? He is antichrist, that denieth the Father and the Son.
The world is demanding that we deny Christ, Allow all kinds of perversion taught in school, Abortion, Sex changes for kids. All these things would have given our Grandparents heart attacks.
It would have caused our Revolutionary ancestors to go to war.
Be careful for who you vote. Keep your eyes open on new bills and watch out what they teach your children in school.
_________________________________________________________________
Sickness in Payatas

Almost the entire Church had the flu (Yes, I bet you haven't heard of that) No one would go to the Doctor as they would say we all had Covid and throw us in the hospital.

Can't happen you say? My mother in law was isolated from everyone. She fell so they took her to the hospital, said she had Covid, put her in a Covid ward with sick people, and a couple of days later she died of Covid.
We had a young boy were we helping to get a cleft pallette operation. They tested him, said he had Covid and should come back in three months. He had a cough that went away the next day and did not return.
Almost our entire Church was sick.
I myself was sick longer than them all. I had fever, headache, weakness… for three weeks! People my age that get the flu usually die. I would not go to the doctor and today I am fine as well as the entire Church.
God allowed it and also got us through it!

Laura decided we should fight to stay healthy so she started an exercise program. In Church and weekdays via Zoom.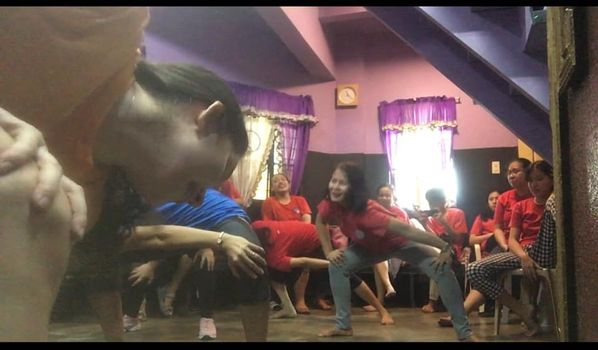 _________________________________________________________________
Despite being sick and the new extended lock downs we have been able to push through and continue God's work. I prayed that God would let us continue and we have passed through all roadblocks. One soldier asked if I would pray for them. God is great!
So we are continuing all ministries. Feeding, Education, Music, boxes, Visitation… Next week we will be giving out clothes and other items at a local venue.
==========================================
Sad News
One of our college students has discontinued her studies to become a CPA as we have not received enough donations. Another young lady is dropping out from becoming an Engineer. She is looking for a cheaper college. Even though, cheaper does not mean better in the Philippines. Pray that they may continue.When financial dips hit here, Children stop school.
We still have $1600 towards the car fund which we have not received any more donations. We also have about 25,000 Pesos which is about $500 in the college fund.. With no more coming in, it won't last long.
Our 20 year plan was to raise children from the youngest to college. After they graduated they could support other children and we would have no need to plead for donations. However, the devil found a way to stop the funding. Please pray for relief.
Also, those who give on a regular basis and when you can, we really appreciate you. God bless!
---
---
Payatas Mission Outreach, Inc
PO Box 55233
Riverside, California 92517
US
Read the VerticalResponse marketing policy.