IS IT ALL ABOUT YOU?
The sermon yesterday was about how we treat one another and how we anticipate each other's feelings. I used the scripture, starting with Matt. 26:38 Where Jesus tells his disciples, "My soul is exceeding sorrowful, even unto death: tarry ye here, and watch with me."
All Jesus wanted them to do is to back Him up. To pay attention to His needs and to perhaps pray for His strength. Yet they fell asleep. He had already told them how sorrowful His soul was even unto death but they paid no attention to Him.
God has a way of illuminating His messages. As I was explaining how we should be aware of the needs of others, one of our mother's baby started throwing up. I saw others looking in her direction and when I looked, there she was trying to work with this baby while others watched. So I said that God is now showing us the example. Here this frustrated mother has to deal with this situation and no one got up to help her. After I said that, others got up to help.
So I asked the mom, "How did you feel dealing with that problem all by your self?" She said, "Bad Pastor." Then I asked, "How did you feel when others started helping you?" She replied, "Relieved."
Jesus was always the strong one but we see in these Scriptures His human side. He had so much on His mind and He just asked to be backed up by His disciples and it never came.
Here at PBC, we just lost a $300 per month supporter. He was the 2nd largest supporter we had. He was faithful for years. He lost His job.
I am not concerned for us as I know God will use someone else to support His work but I am concerned for Him. My soul is exceedingly sorrowful. Will you pray for him? I won't give you his name but let's just call him faithful. Pray that he not only gets a job but gets the one that will make him happy. Pray for the peace and joy of his family. Will you do that? Please, don't fall asleep, he needs your prayers.
Brother Lito
As you probably already know, Brother Lito is a man in our Church who lives with his granddaughters, Vanessa and Mary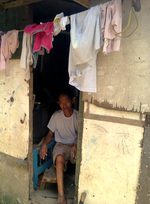 Ann.
We have done everything we can to help this man. The doctors say he can walk again if he has the operation replacing his knees. One of our members trained him how to make floor mats and he has been doing a great job and making a bit of money also. Please pray we can get the right agencies to pay for his operation. He is a faithful member at Church and faithful to take care of his grandchildren.
WEDDING BELLS

One of my FaceBook friends, Ken Dewsberry, contacted me. He lives in Tazmania which is off the Southern coast of Australia. He met a gal here in the Philippines named Anna and she lives right near our church. He asked if I could marry them.
Anna was recently saved and of course I wanted to make sure which I soon determined she was definitely, born again.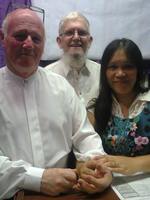 So I married them and he had to return home and now his wait begins to get his bride back to his country.
In the meantime, she has proved to be faithful in attending our Church and helping out with the feeding program. I know when the time comes, we will miss her but God allowed us this moment in their lives and that is just wonderful.
MUSIC
Our musicians have been working on our future recording. We plan to record 15 songs and they are almost done with the instrument work and will begin to work on the vocals. After that it will be off to the studio. Pray that they capture the happiness and sweet savor of music wafting up unto the Lord. These kids love God and want to please Him.
Support
Have you been thinking that you would like to support us but Don't have a lot of money to send? For as little as $5 per month you to can be part of this wonderful ministry.

Please send what you can and please don't forget to pray for this ministry.
God Bless! Ptr Jack, Malou, Laura and Linda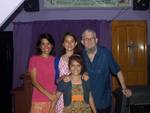 ---